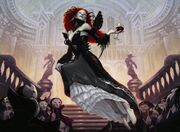 Olivia Voldaren is a vampire native from Innistrad and the progenitor of the Voldaren bloodline.
She was in life a beautiful but strange, hermetic, antisocial woman who preferred to live far away from human civilization, in manor homes built for her from her seemingly boundless wealth.
Like her, Voldaren vampires tend to live in the distant places, in the borderlands and edges of Innistrad's provinces.
Olivia travels often, visiting the far-flung Voldaren manors and fortresses that are scattered across the four provinces of Innistrad. The elite among vampires know that Olivia throws the best parties, and the nobility will happily make the trek out to the estate for her seasonal ball. She is a famous eccentric and bon vivant.
In-Game References
Edit
Represented by the Following Cards
Olivia Voldaren
Associated Artwork
Past in Flames
Quoted or Referred to
Haunted Guardian
Russet Wolves
Traitorous Blood
Victim of the Night